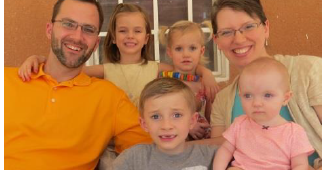 With this post I want to do three things; draw attention to a happening in the country of Niger, honor a Christian community and honor a missionary family in the country of Niger.  I follow the blog of missionary family Jonathan and Dani Bowden, I don't know this family personally but I know a close relative.
I believe that all Christians are called to reveal Christ to one another and to the world.  Suffering is not something anyone volunteers for, but there are thousands, maybe millions of Christians around the world who are suffering at different levels as a direct result of their faith in Jesus Christ.
After the Paris mass murder of the cartoonists in Jan 2015 there was an angry backlash against muslims in Europe, many muslims then reacted to this and began rioting in different parts of the world.  The country of Niger was one of them.
For more details please go the "Do Not Be Afraid" post by the Bowdens in Africa blog site.
Here are a few highlights of this post by Jonathan and Dani Bowden:
"On Saturday, January 17, dozens of churches were burned throughout Niger. In almost every major city, there were targeted attacks aimed at the church properties. Several of the pastors that we know lost their homes and churches, just escaping with their lives and the clothes on their backs. At our main church compound (where our Bible school is located), one pastor and seven youth held the front gate against a mob of hundreds trying to burn the church and Bible school down. For over eight hours, they literally held the front and back doors to the compound shut against a crazy mob trying to get in. They did not even have time to get a drink of water or eat anything all day, but stood firm and held the gate of the compound until the police arrived and helped to control the mob. It is a miracle and a great answer to prayer that these eight men were able to hold the front door even as they were being hit by stones thrown from outside the compound and the gate was set on fire. If the pastor and youth had not stood fast, we are certain that the Bible school and main church would have been destroyed, and the mob would most likely have attacked the next church on their list. This is the kind of amazing faith that we are seeing as the Nigerien Christians standing fast for Christ even at the risk of their own lives.
Another great testimony came out of this wave of persecution last week when pastors met with the government leaders in our city. The leaders (Muslims) apologized on behalf of the ones who had carried out the attacks against the church. Because of the way that the pastors came to the meeting in a spirit of forgiveness and reconciliation, the leaders were in awe of them. They said, "Is this really what Christians are like?" and, "We have never seen or known anyone like the Christians." The church has great favor with the local authorities right now and even many of the media and radio channels have been talking about this.
…
After the children's skit, the pastor then launched into his message about how it is necessary for Christians living today to have a solid Biblical perspective towards persecution. He read the Scriptures above and then made one comment that really impacted us. He asked the question "Why are we afraid to die? The one who is afraid of death is the one whose treasure is on this earth and he is afraid that he will lose it." The pastor went on to say, "Paul considered it better to be with the Lord, death was only gain. But even though he knew that to be with the Lord was better, he chose to stay to encourage the believers. In Paul's mind, however, being home with the Lord was better than being on this earth. The Christian's perspective of death should be gain, not loss. Our treasure is with Jesus in heaven, not on this earth."
We are learning from our Nigerien brothers and sisters that as Christians we must learn to renounce the fear of death in any shape and form that can paralyze us and hinder us from serving and fulfilling the will of the Lord on our lives. We have been saved from having to live in fear. Fear itself was nailed to the cross. Each believer has the ability through the Holy Spirit and the Word of God to overcome fear and to influence the world around them by walking in peace, joy and faith. In the end times there will be paranoia in the media, news, nations, and even our own cities and towns, but we must realize that Jesus is King and He reigns above these situations. As the Church, we are called to live above our situations and circumstances and to point to the only One who can give hope and salvation, Jesus Christ. Our responsibility is to look unto Jesus and to lead those He brings our way to Him as well. But if we let fear take ahold of our hearts, we will not be able to influence or to lead others to Christ. This would be a great tragedy in the church today if Christians in the last days, the only ones who have any real lasting hope in this life, look at outward circumstances and "hide" their light because of the fear and cares of this world."
————–
I want to draw attention to four things from this story which I believe are lessons from Jesus Christ himself. These brethren in Niger are revealing Christ to us and to their part of the world.
"we must learn to renounce fear of death in any shape," I think this is unique to the body of Christ, killers and terrorists who try to take over (from every shape or creed) rely on fear of death to enslave and control people. If we are able to take this fear of death away from them, the strategy to control and take over breaks down. The authorities said "we have never seen or known anyone like the Christians." 
We can learn from these believers how not to allow the cares of this world (which can include even life itself) to shrink back from God. When I've read the scripture in the past about the cares of this world I naturally think of the luxuries and petty pursuits of life, yet these people apply this to life itself which is probably closer to what Jesus was actually teaching! Such an example, such a lesson from God.
We can learn from these believers how to forgive, how to not hold grudges, how not to retaliate and riot and kill back. Allowing themselves to be abused, to be taken advantage of without attacking back, what maturity, what self-sacrifice to represent Jesus to their world.  The authorities in Niger said "Is this really what Christians are like?"
We can learn from the Bowdens how to share the many facets of Christ both in Niger and in their writings on their blog. Producing fruit, I think the world knows Christ a little better because of families such as the Bowdens.
1 Peter 4:16 However, if you suffer as a Christian, do not be ashamed, but praise God that you bear that name